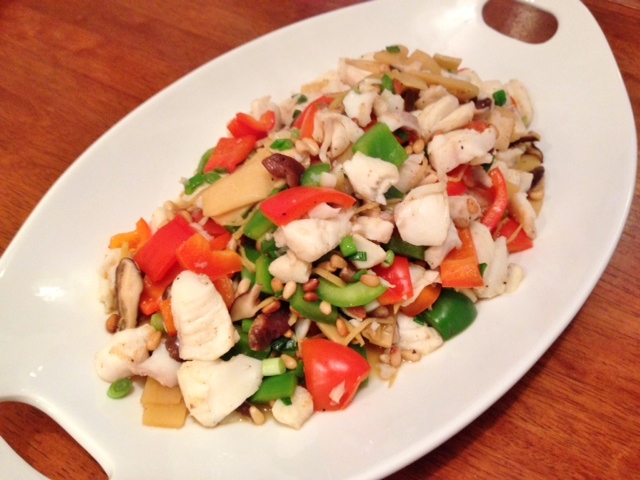 Fish Stir Fry with Toasted Pine Nuts
Fish Stir Fry with Toasted Pine Nuts
Author:
Jeanette Withington
Ingredients
1½ pounds white fish fillet (halibut, sword fish, code) skin removed and cut into 1 inch cubes
3.5 OZ shitake mushrooms, sliced
1 can 8 OZ sliced bamboo shoots, drained
1 inch fresh ginger root, finely sliced
4 green onions, sliced
1 red bell pepper, cut into 1 inch squares
1 green bell pepper, cut into 1 inch squares
1 tablespoon rice cooking wine
4 tablespoons, toasted pine nuts
3 tablespoons vegetable oil or peanut oil
3 tablespoons, Tamari Gluten Free Soy Sauce
salt and pepper
Instructions
Season the fish with salt and pepper.
In a preheated wok, heat 2 tablespoons of oil and fry the fish for 3 minutes. Stir gently so the fish does not scramble. Drain and set aside.
Clean the wok and return to heat. Add the remaining oil, then add the ginger. Stir fry until fragrant. Add the mushrooms, peppers, bamboo shoots, and rice wine. Cook for 2 minutes, then add the fish, soy sauce and the scallions. Stir gently and cook for about 2 minutes. Sprinkle with pine nuts and serve.