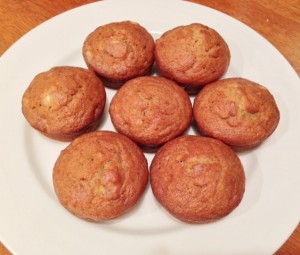 Gluten Free Banana Nut Muffins
Gluten Free Banana Nut Muffins
Ingredients
2 cups Orgran Gluten Free All Purpose Flour
1½ teaspoon baking soda
4 over ripe bananas
½ teaspoon salt
1 cup brown sugar
2 large eggs
¾ cup (1½ sticks) unsalted butter, melted and cooled
1 teaspoon pure vanilla extract
½ cup walnuts, chopped
Instructions
Preheat oven to 375 degrees f and lightly butter 2 muffin tins.
In a large bowl, combine flour, baking soda and salt, set aside.
In a small bowl mash 2 bananas with fork so they still have a bit of texture.
In another big bowl, mix the remaining bananas and sugar with an electric mixer for about 3 minutes.
Add butter, eggs and vanilla, beat well.
Mix in the dry ingredients.
Fold in nuts and mashed bananas.
Spoon the batter into the muffin tins, fill them halfway.
Give them a rap on the counter to get the bubbles out.
Bake 18 to 20 minutes.
Let cool for few minutes before taking them out.