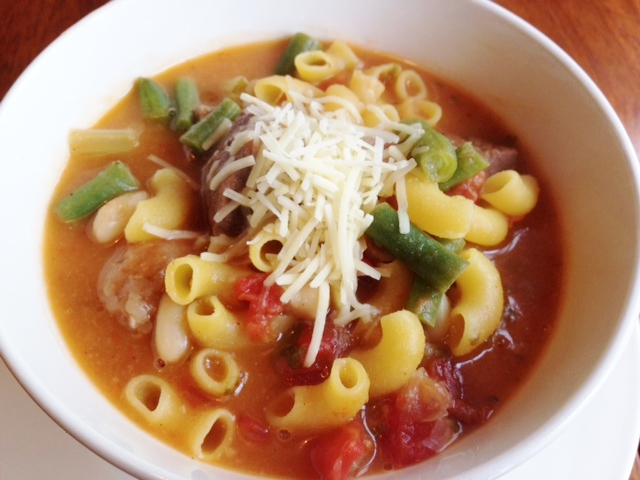 Gluten Free Minestrone
Gluten Free Minestrone
Author:
Jeanette Withington
Ingredients
1 pound lean beef, cut into 1 inch cubes
5 cups water
1 can (14-15 ounces) Hunts Diced Tomatoes - gluten free
½ cup chopped onion
1 cup sliced carrots
¼ cup chopped celery
3 cloves garlic, minced
2 tablespoons fresh parsley, finely chopped
2 tablespoons fresh basil, finely chopped
1 teaspoon kosher salt
1 bay leaf
¼ teaspoon ground black pepper
1 can (15 ounces) Great Northern Beans, drained - gluten free
1 cup green beans, cut into 1 inch
1 package Ancient Harvest Quinoa Elbow Pasta - gluten free
Instructions
Place beef, water, tomatoes, onions, carrots, garlic, celery, parsley, basil, salt, pepper, and bay leaf in a pressure cooker. Cook for 12 minutes with pressure cooker regulator rocking slowly. Add the Northern Beans, noodles and green beans. Simmer uncovered for another 10 minutes. Garnish with parmesan cheese.