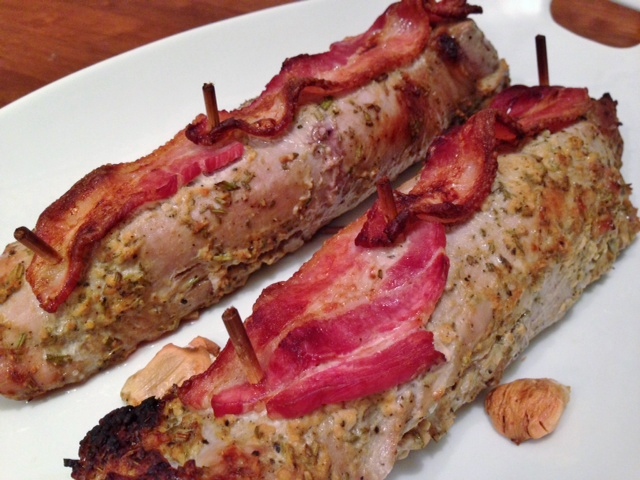 Gluten Free Pork Tenderloin with Bacon and Roasted Garlic
Gluten Free Pork Tenderloin with Bacon and Roasted Garlic
Author:
Jeanette Withington
Ingredients
2 pork tenderloins, about 1 pound each
⅓ cup French's Dijon Mustard with Chardonnay - gluten free
2 tablespoons fresh rosemary, chopped
1 tablespoon ground black pepper
10 garlic cloves, 6 cloves minced, 4 cloves smashed
slices of Hempler's Bacon - gluten free
Instructions
Whisk together the Dijon Mustard, rosemary, black pepper, and minced garlic. Rub the mixture over the pork tenderloin and place in a baking dish. Cover with plastic wrap. Marinate in the fridge at least 1 hour or for best result overnight.
Preheat oven to 375 degrees F.
Lightly grease a roasting pan.
Place the smashed garlic at the center of a roasting pan. Top the pork with slices of bacon and secure with toothpicks. Arrange the pork on the roasting pan.
Bake for 35 to 40 minutes or until the internal temperature registers 160 degrees. Remove from the oven and let it stand for few minutes before cutting. Garnish with the roasted garlic.