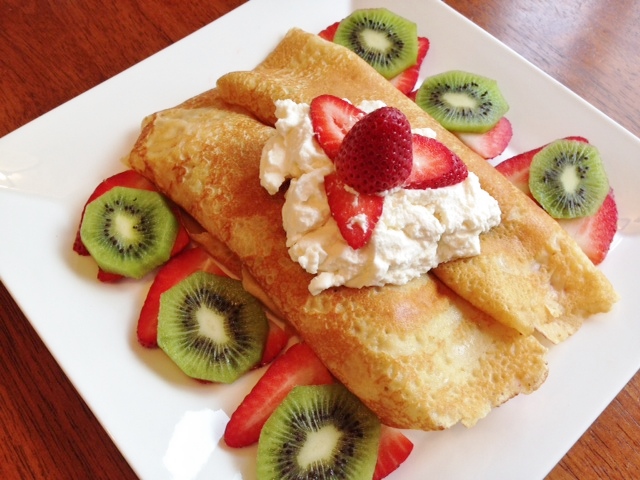 Gluten Free Strawberry and Kiwi Crepes
Gluten Free Strawberry and Kiwi Crepes
Author:
Jeanette Withington
Ingredients
CREPES:
1¼ cup Bob's Red Mill Gluten Free All Purpose Flour
½ of lemon zest
1¼ cup milk
1 egg
1 tablespoon sugar
2 tablespoons melted butter
BERRY FILLING:
fresh strawberries, sliced plus more for garnish
5 kiwis, sliced plus more for garnish
WHIPPED CREAM:
2 cups heavy cream
½ cup granulated sugar
2 teaspoons pure vanilla extract
Instructions
Whisk flour, lemon zest in a medium bowl. In another bowl whisk together the milk, egg and 1 tablespoon sugar. Slowly whisk the egg mixture into the flour until smooth. Let it stand for few minutes until bubbles are gone.
In a 12 inch pan, lightly brush with melted butter and heat over medium high heat. Pour about ¼ cup of the batter and quickly tilt the pan to coat. Cook for 1 to 2 minutes and flip with a thin spatula to cook the other side about 1 more minute. Cook the remaining batter. Stack the crepes on a plate.
In an electric mixer, whip the cream to medium peaks, add the sugar and the vanilla and whip to stiff peaks.
Assemble the crepes, gently fold in the berries and kiwi, place in the center of a crepe. You can also add some whipped cream if you like and roll up. Repeat for the remaining crepes.
Garnish with slices of strawberries and kiwi, and a dollop of whipped cream.