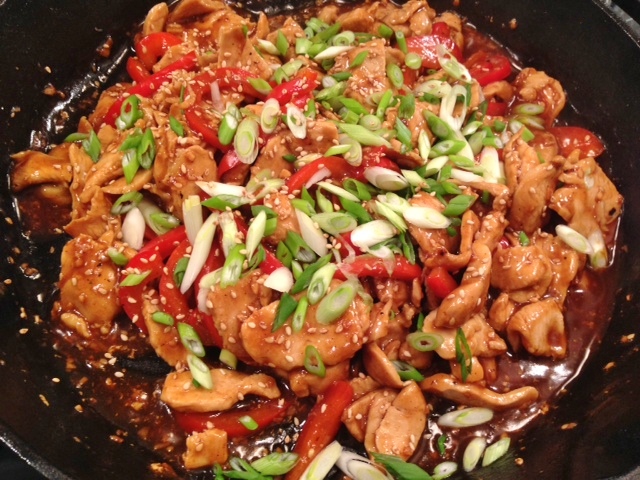 Gluten Free Sweet and Sour Chicken
Gluten Free Sweet and Sour Chicken
Author:
Jeanette Withington
Ingredients
1⅕ pounds skinless chicken breast, cut into small strips
1 red bell pepper, cut into strips
3 green onions, cut diagonally
¾ cup Swanson Chicken Broth - gluten free
1 tablespoon Clabber Girl Cornstarch - gluten free
1 tablespoon Tamari Soy Sauce - gluten free
3 tablespoons rice vinegar
¼ cup sugar
¼ cup Heinz ketchup - gluten free
½ teaspoon salt
1 teaspoon sesame oil
toasted sesame seeds for garnish
3 tablespoons peanut oil
½ teaspoon kosher salt
Instructions
Lightly season the chicken with salt.
In a small bowl combine the broth, cornstarch, ketchup, soy sauce, rice vinegar, sugar, salt the sesame oil. Stir until well blended.
Heat 1 tablespoon peanut oil in a wok or cast iron skillet over medium heat. Add the chicken, slowly stir until opaque about 1 minute. Transfer to a plate; clean the wok then add 2 tablespoon peanut oil, add the garlic and ginger. Stir fry for 30 seconds the add the vegetables, stir fry until tender. Add the chicken and the sauce mixture. Cook until sauce thickens about 2 to 3 minutes. Sprinkle sesame seeds and garnish with green onions.