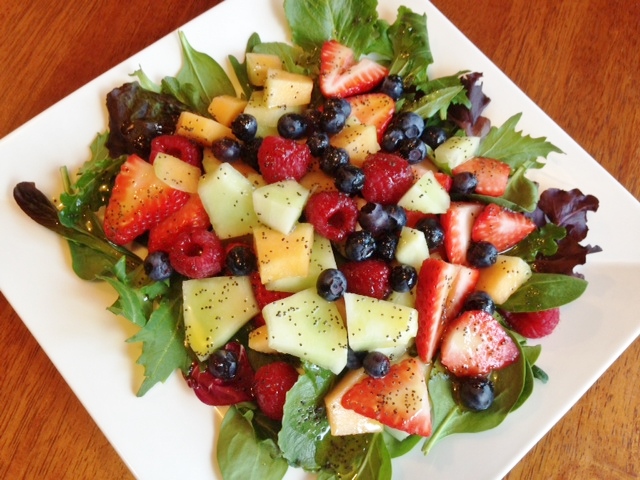 Fresh Fruit Salad with Poppy Seed Dressing
Fresh Fruit Salad with Poppy Seed Dressing
Ingredients
½ honeydew melon, peeled, seeded and diced
½ cantaloupe, peeled, seeded and diced
½ cup fresh raspberries
¼ cup fresh blueberries
½ cup fresh strawberries, thinly sliced
baby greens
DRESSING:
3 tablespoons Heinz Red Wine Vinegar - gluten free
1 teaspoon Colman's Mustard Powder - gluten free
¾ teaspoon kosher salt
¼ cup sugar
⅓ cup vegetable oil
1 tablespoon poppy seeds
Instructions
In a large bowl, gently toss the cantaloupe, honeydew melon, strawberries, raspberries, and blueberries.
Whisk together all the dressing ingredients in a small bowl until the sugar has dissolved.
Add the dressing to the fruit mix and gently toss to coat.
Arrange the baby greens at the center of a plate and top with the fruits. Enjoy!