[caption id="attachment_1805" align="aligncenter" width="581"]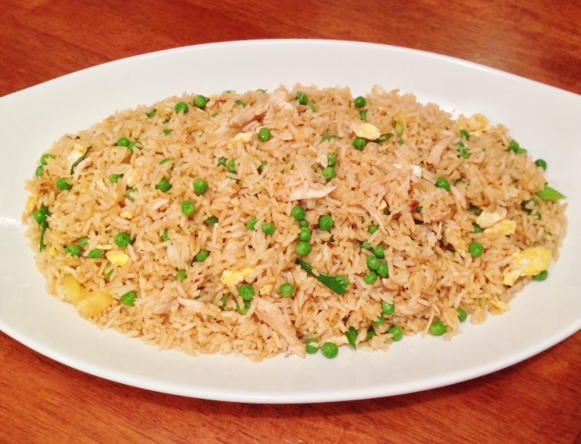 Gluten Free Chicken Fried Rice[/caption]
Gluten Free Chicken Fried Rice
Gluten Free Chicken Fried Rice
Ingredients
3 cups uncooked white rice
1 or 2 cups shredded chicken ( I used a left over chicken. You can use 1 pound of chicken)
2 tablespoon cooking oil or peanut oil
1 cup frozen green peas
4 eggs lightly beaten
green onions, sliced diagonally
San J Tamari Soy Sauce (this is gluten free)
1 tablespoon sesame oil
1 cup Dole Pineapple Tidbits - gluten free
¼ teaspoon McCormick Ground White Pepper - gluten free
Instructions
Cook rice according to instruction.
Sliced chicken into thin strips, season lightly with salt and pepper.
Rinse frozen green peas.
Heat wok to medium high heat then add oil.
Briefly scramble eggs and set aside.
Add 1 tablespoon of cooking oil into wok.
Put chicken to wok and cook for few minutes, stirring constantly until chicken is no longer pink.
Add white pepper, pineapple, green peas, green onions, and sesame oil, stir to combine.
Add cooked rice and few splashes of soy sauce. Stir to combine all the ingredients. You can taste it and adjust soy sauce accordingly.