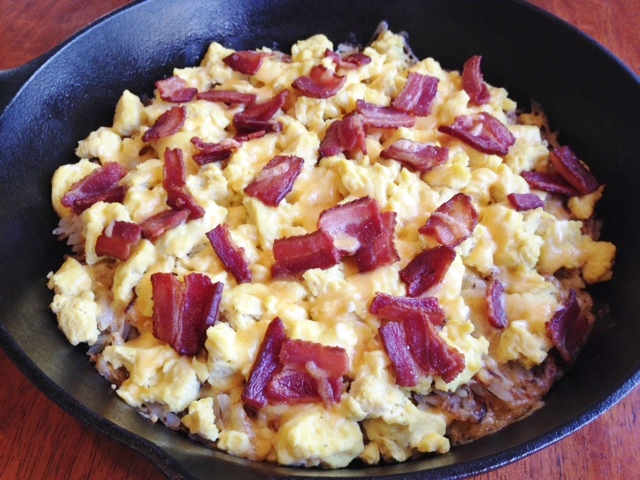 Gluten Free Rise and Shine Breakfast Pizza
Gluten Free Rise and Shine Breakfast Pizza
Ingredients
1 package Crystal Farms Simply Potatoes Shredded Hash Browns - gluten free
1½ cups shredded cheddar cheese
½ cup milk
1 package Hempler's Bacon (gluten free), cut into 1 inch pieces and crispy cooked
7 eggs
salt and pepper to taste
Instructions
Preheat oven to 400 degrees F.
Prepare hash browns according to package directions; spread on a lightly greased baking sheet or pizza pan. I prefer a cast iron skillet. Top with ½ cup cheese; set aside.
Whisk together eggs and milk in a microwave safe bowl; microwave on high for 3 minutes, the scramble eggs well. Return to microwave and cook 3 more minutes; whisk well to scramble.
Layer eggs on top of cheese; season it with salt and pepper. Top with remaining cheese. Top with the crispy bacon.
Bake for 10 minutes or until cheese is melted. Cut into wedges and serve.