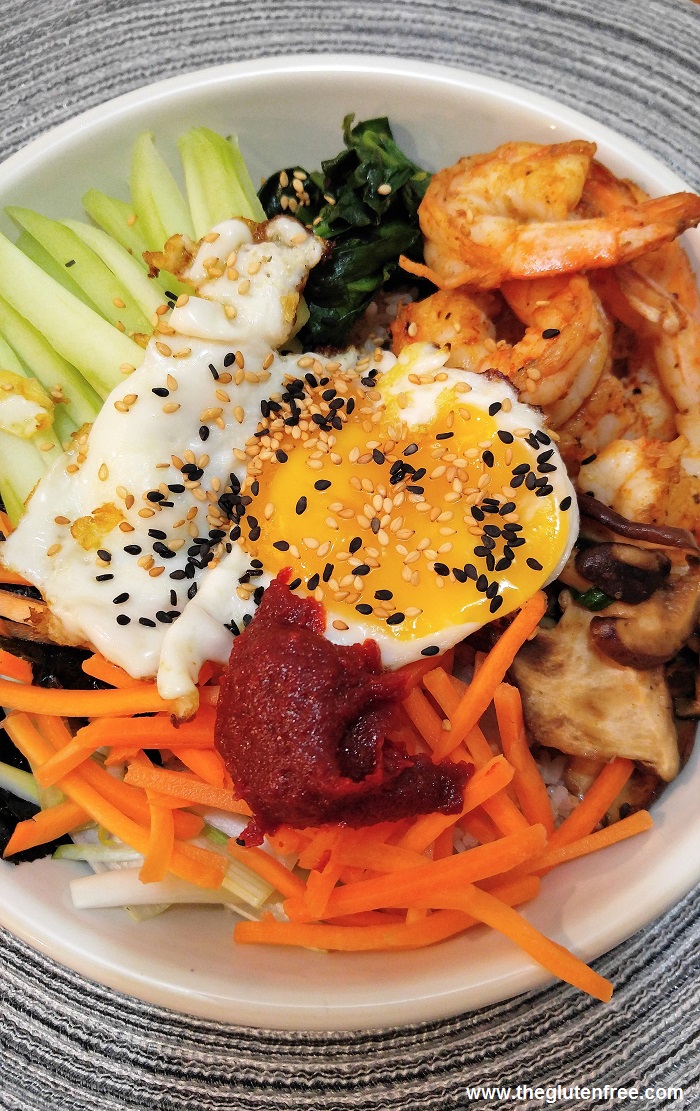 Gluten Free Shrimp Bibimbap
Gluten Free Shrimp Bibimbap
Ingredients
16 oz Jamine rice
1 cup julienned carrots
1 cup shiitake mushrooms, thinly sliced
2 green onions, sliced
1 pound jumbo shrimps, shelled and deveined
1 teaspoon sesame oil
5 tablespoons Tamari soy sauce - gluten free
2 tablespoons brown sugar
1 tablespoon grated fresh ginger
3 garlic cloves, minced
vegetable oil
1 bag spinach
4 eggs
1 tablespoon sesame seeds
1 cucumber, thinly sliced
gluten free Gochujang Sauce
2 tablespoons butter
McCormick Garlic Salt - gluten free
salt and black pepper
Instructions
Cook rice according to directions.
Season shrimps with salt and pepper.
In a small bowl combine the soy sauce, brown sugar, garlic, ginger and sesame oil. Heat a cast iron pan over medium high heat. Add a splash of cooking oil and cook the shrimps for few minutes. Add the soy sauce mixture (reserve some for the mushrooms) with the shrimps and let sizzle a little bit then set aside. On the same pan saute mushrooms for few minutes until soft and drizzle some soy sauce mixture. Set aside. Saute spinach and season with salt and pepper. Set aside.
Clean the pan real quick and return to medium high heat. Melt butter to the pan then add rice. Do not disturb rice right away. Stir rice nicely, season with garlic-salt powder and cook until lightly crispy about 5 minutes.
Heat a non stick pan to low and cook the eggs sunny side up.
Place a portion of the rice in a serving bowl. Top with shrimps, carrots, mushrooms, spinach, cucumber, green onions, 1 egg, the gochujang sauce and toasted sesame seeds. Yum!