[caption id="attachment_1932" align="aligncenter" width="582"]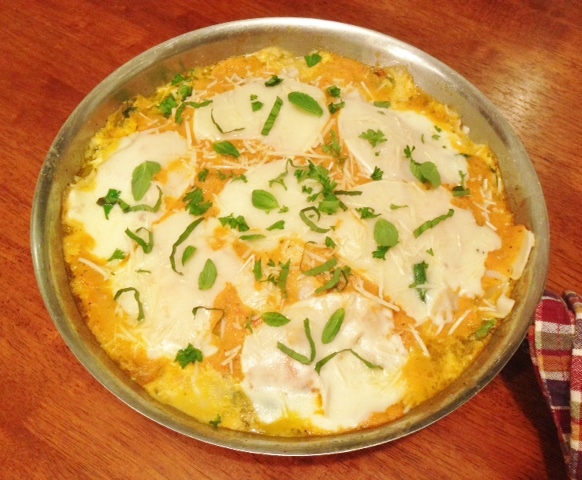 Gluten Free Skillet Lasagna[/caption]
Gluten Free Skillet Lasagna
Gluten Free Skillet Lasagna
Ingredients
6 Tinkyada Pasta Joy Brown Rice Pasta Lasagne - gluten free
¼ cup olive oil, plus more for drizzling
1½ pounds ripe tomatoes, diced
4 cloves garlic, sliced
5 tablespoons chopped fresh basil and parsley, plus more for garnish
salt and pepper 1 cup ricotta cheese
3 tablespoons grated parmesan cheese, plus more for garnish
1 large egg
1 large carrot, peeled, and cut into ribbons
1 zucchini, cut into ribbons
3 cups baby spinach
⅓ pound fresh mozzarella cheese, thinly sliced
Instructions
Cook pasta half of the time according to package. Do not overcook.
Heat olive oil in a large skillet over medium high heat. Add garlic, cook until golden about 1 minute.
Add tomatoes, 1 tablespoon of herb, ½ teaspoon salt, and pepper to taste; cook for 5 minutes.
Transfer sauce to a blender and puree.
Return 1 cup of sauce to the skillet and reduce heat to low; reserve the remaining sauce.
In a medium bowl, mix ricotta, egg, 3 tablespoons of herb, parmesan, ½ teaspoon salt, and pepper to taste.
Place 2 lasagna noodles over sauce in the skillet.
Layer half of the carrot and zucchini on top; drizzle with olive oil and season with salt and pepper.
Cover with half of spinach, half of ricotta mixture, few pieces of the mozzarella cheese and 3 tablespoons of sauce of the reserved tomato sauce.
Repeat layers, ending with noodles.
Top with the remaining sauce and mozzarella.
Cover and simmer for 25 minutes.
Let rest for few minutes.
Garnish with parmesan cheese and fresh herbs.
Notes
Use a peeler to make thin slices of carrot and zucchini.