[caption id="attachment_1951" align="aligncenter" width="599"]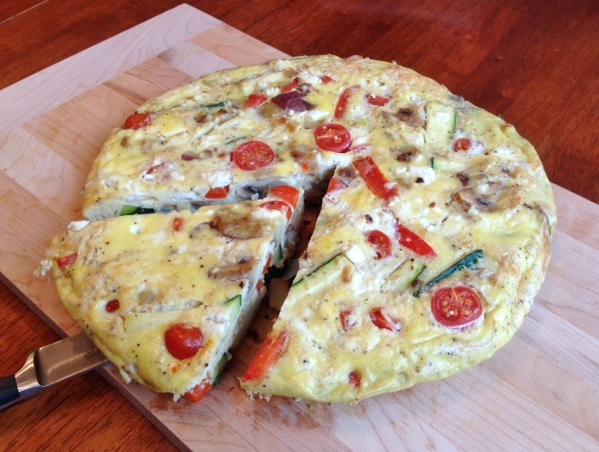 Gluten Free Spanish Frittata[/caption]
Gluten Free Spanish Frittata
Gluten Free Spanish Frittata
Ingredients
12 large organic eggs
1 medium russet potato, peeled, cut into ½ inch pieces
6 button mushrooms, halved
1 red bell pepper, seeded and cut into 2 inch long strips
1 zucchini, cut into 1 inch long strips
8 cherry tomatoes, halved
1 shallots, chopped
3 ounces feta cheese, crumbled (about ½ cup)
salt and pepper
Instructions
Preheat oven to 350 degrees f.
Fill a vegetable steamer with 1 inch of water. Cover and bring to a simmer over medium heat. Add potato pieces, cover and steam for about 6 to 7 minutes, do not over cook. Drain potatoes and let it cool.
Heat the oil in a 12 inch nonstick ovenproof pan over medium high heat. Add potatoes, sprinkle with salt and pepper, cook for a couple of minutes. Add mushrooms, bell peppers, and shallots, cook for 4 minutes or until vegetables slightly soften. Add zucchini, reduce heat to medium low.
Whisk the eggs, ½ teaspoon salt and ½ teaspoon pepper in a large bowl.
Pour eggs over vegetables in the pan. Add tomatoes and feta cheese, cook without stirring for about 6 minutes, or until egg mixture is almost set but the top is still loose. Transfer the pan to the oven and bake for 20 minutes or until the center is set. Use a silicone spatula to loosen the frittata. Slide the frittata to a cutting board or plate. Serve.