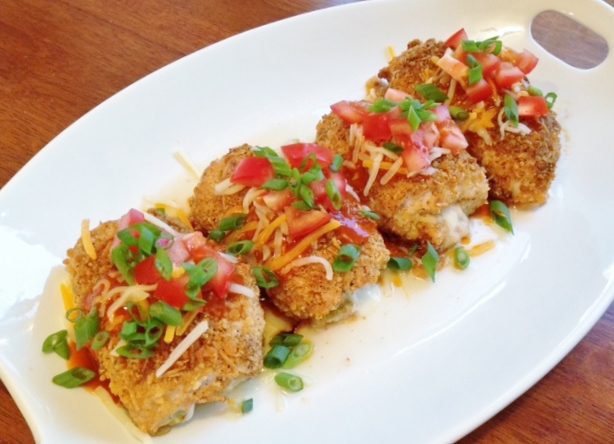 Gluten Free Chicken Chile Rolls
Gluten Free Chicken Chile Rolls
Author:
Jeanette Withington
Ingredients
4 skinless chicken breast
¼ pound Monterey Jack Cheese, cut into strips
½ cup grated parmesan cheese
1 can 7 oz. La Victoria Diced Green Chiles - gluten free
1 cup La Victoria Enchilada Sauce - gluten free
½ cup Ian's friendly foods for life - gluten free breadcrumbs
1 tablespoon McCormick Chili Powder - gluten free
¼ teaspoon McCormick Ground Cumin - gluten free
¼ teaspoon ground black pepper
½ teaspoon salt
6 tablespoons butter, melted
Shredded Mexican cheese blend
1 medium tomato, diced
green onions, sliced
Instructions
Flatten chicken breast to ¼ inch thickness between pieces of wax paper. Top each chicken with 1 strip of Monterey Jack Cheese and 2 tablespoons chiles; roll up.
Combine breadcrumbs, parmesan cheese and seasonings on a plate. Pour the melted butter on a separate plate. Carefully dip chicken roll in butter and coat with breadcrumbs.
Arrange chicken rolls in a lightly greased 13"x9" baking pan, seam-side down; drizzle with remaining butter. Bake for 30 minutes at 400 degrees F.
Before serving, heat the enchilada sauce in a small saucepan. Ladle sauce evenly over chicken. Garnish with cheese, tomatoes and green onions.