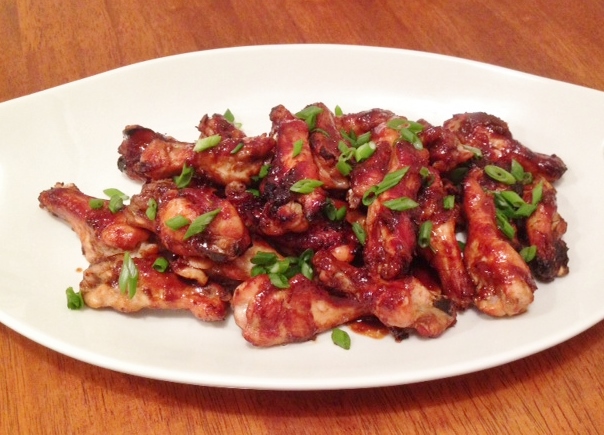 Gluten Free Hoisin Chicken Wings
Gluten Free Hoisin Chicken Wings
Ingredients
3 pounds chicken wings
3 green onions, sliced
MARINADE
3 tablespoons dry sherry
6 tablespoons Wok Mei All Natural Hoisin Sauce - Gluten Free
½ cup San J Tamari Soy Sauce - Gluten Free
3 tablespoons brown sugar
3 tablespoons peanut oil
2 inch ginger, peeled and grated
Instructions
Combine all the marinade ingredients in a large bowl.
Add the chicken and toss in the marinade to coat.
Cover the bowl with plastic wrap and put it in the fridge for at least 30 minutes.
Preheat oven to 375 degrees f.
Lightly grease a roasting pan.
Remove the chicken from the marinade (saving the liquid in a small saucepan)
Arrange the chicken unto the roasting pan.
Roast the chicken for 30 minutes, flip the chicken to cook the other side and cook for another 10 to 15 minutes or until crisp on top.
Before serving, bring the sauce to a boil, and drizzle over the chicken.
Sprinkle green onions and serve.