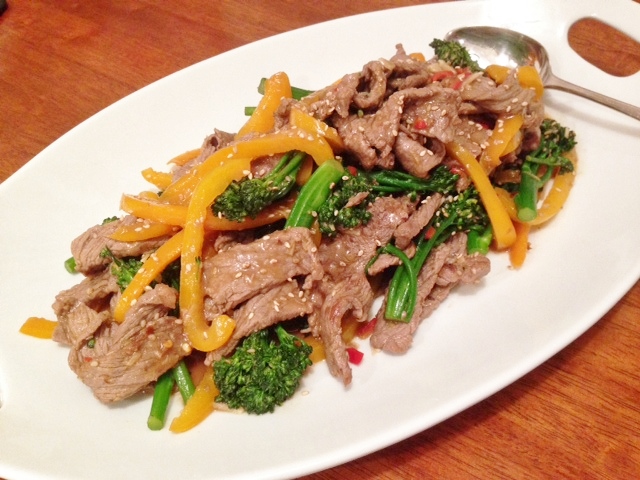 Gluten Free Hot Sesame Beef
Gluten Free Hot Sesame Beef
Ingredients
1½ pounds beef fillet, cut into thin strips
½ cup Swanson Beef Stock - this is gluten free
3 tbsp. San J Tamari Soy Sauce - gluten free
1½ tbsp. sesame seeds
2 tbsp. grated ginger
2 garlic cloves, minced
1 tsp. Clabber Girl Corn Starch - gluten free
3 tbsp. sesame oil
½ tsp. McCormick hot pepper flakes - gluten free
1 bunch broccolini, hard stem removed
1 red chili, seeded and sliced thinly
1 orange bell pepper, sliced thinly
1 tbsp. chili oil (optional)
2 tbsp. cilantro, chopped for garnish
Instructions
Mix beef with 1 tbsp. of sesame seeds in a medium bowl.
In another bowl, whisk together beef stock, ginger, garlic, soy sauce, cornstarch, and red pepper flakes.
Heat 1 tbsp. of sesame oil in a large skillet or wok. Stir-fry beef for 3 minutes. Remove and set aside.
Discard any oil left in the pan, wipe it clean with paper towel. Heat the remaining sesame oil, add broccoli, chili, bell pepper, and chili oil. Cook for 2 to 3 minutes. Stir in beef stock mixture. Let simmer for 2 minutes.
Return the beef to the pan and simmer until the sauce thicken, stir occasionally.
Cook for another 1 to 2 minutes.
Sprinkle with the remaining sesame seeds and garnish with fresh cilantro.