[caption id="attachment_1209" align="aligncenter" width="470"]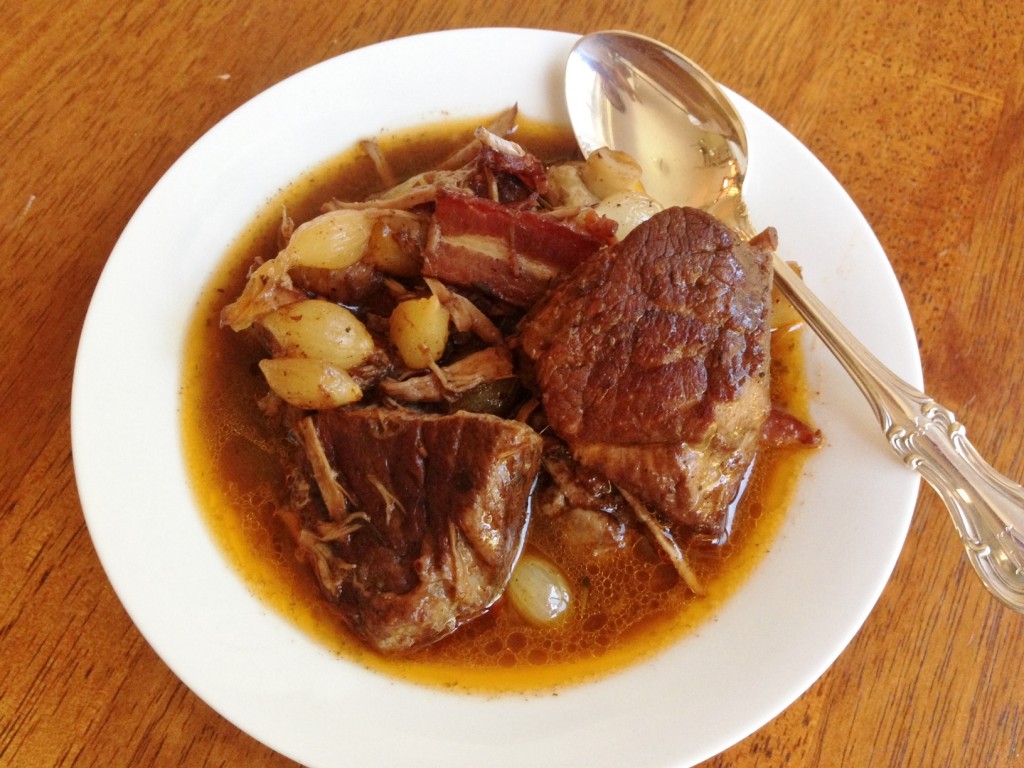 Gluten Free Beef Bourguignon[/caption]
Gluten Free Beef Bourguignon
Gluten Free Beef Bourguignon
Ingredients
3 lbs. well-marbled beef chuck, cut into 2 inch pieces
½ pound bacon slices, cut 1 inch long (Hempler's Bacon are G-Free)
3 cups red wine
¼ cup brandy
2 cups Swanson Beef Stock (this is G-Free)
6 tbsp. unsalted butter, and 1 tbsp. softened unsalted butter
1 large onion, peeled and cut in quarters
2 carrots, peeled and cut in large chunks
4 garlic cloves, peeled and sliced
10 parsley stems
1 teaspoon dried or fresh thyme
1 teaspoon dried or fresh rosemary
10 black peppercorns
5 whole cloves
5 allspice berries
1 bay leaf
1 tablespoon olive oil
1 tablespoon tomato paste (Hunts are G-Free)
1 lbs. pearl onions frozen or fresh
pinch sugar
1 lbs. small white mushrooms, cleaned
1 tbsp. g-free flour (Bob's Red Mill All Purpose Flour)
Instructions
Combine the red wine, beef stock, onion, carrots, parsley stems, brandy, rosemary, thyme, peppercorns, cloves, allspice, bay leaf and beef in a large bowl with a lid. Stir and refrigerate, covered, overnight.
Remove the beef from the marinade the next day.
Reserve the marinade and vegetables separately.
Pat the beef dry with paper towels and season it well with salt and pepper.
Cook the bacon until crispy in a Dutch oven over medium heat. Remove the bacon and set aside.
Preheat oven to 275 degrees.
In the same Dutch oven, brown the beef over high heat with the bacon fat.
Pour off all the fat but 1 tablespoon of fat. Return all the browned beef to the pot.
Add the vegetable and herb mixture reserved from the marinade, and cook over medium-high heat, stirring for few minutes.
Add the reserved marinade liquid and tomato paste, Bring it to boil, and season it to taste.
Cook in the oven covered for 3 hours.
After 3 hours, remove meat and strain sauce. Skim the fat.
In another skillet, simmer pearl onions with a little bit of water, 1 tablespoon butter, pinch of sugar, and salt and pepper over medium-high heat until tender. Raise heat to high and continue cooking until onions are golden brown and glazed.
In another skillet over medium-high heat, melt 3 tablespoon butter and the mushrooms, add the bacon and season it with salt and pepper. Cook until golden brown.
In a small bowl, combine 1 tablespoon softened butter with 1 tablespoon g-free flour.
Add the cooked onions and mushrooms to the stew. Bring the liquid to a simmer, add the combined butter and flour to thicken the sauce.
Serve and enjoy.