[caption id="attachment_2022" align="aligncenter" width="640"]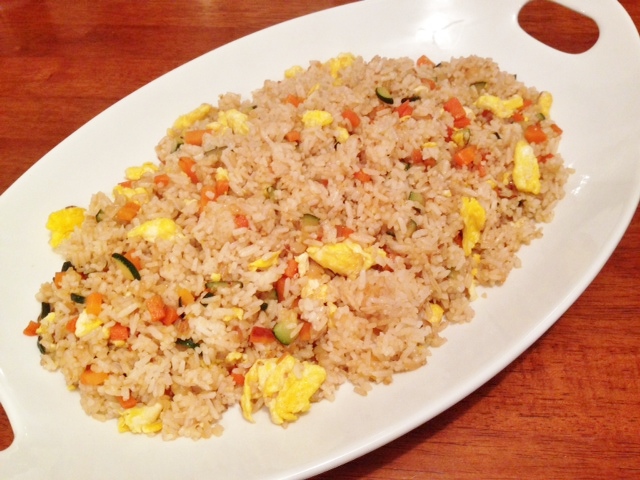 Gluten Free Benihana Style Fried Rice[/caption]
Gluten Free Benihana Style Fried Rice
Ingredients
6 to 8 cups cooked jasmine rice (2 to 3 cups uncooked)
1 stick unsalted butter, room temperature
6 garlic cloves, grated
6 large eggs, lightly beaten
Roasted Sesame seeds
1 cup carrots, finely chopped
1 cup zucchini, finely chopped (1 medium zucchini)
1 cup onion, finely chopped (about ½ onion)
¼ cup San J Tamari Soy Sauce - Gluten Free
salt
2 tablespoon vegetable oil
Instructions
In a small bowl combine the butter and grated garlic.
Heat wok over high heat. Add vegetable oil, swirl it around to oil the sides of the pan. Add the eggs, let it sit for a minute then stir to scramble. Then cook for few more about 3 minutes. Set aside.
Add 3 tablespoons of garlic butter to the wok, let it sizzle for a minute then add the onion, zucchini, and carrots. Cook until it starts to brown about 5 minutes. Sprinkle with sesame seeds. Cook for 2 minutes. Lightly season with salt. Set it aside.
Add the rest of the garlic butter to the wok, let it sizzle, then add the rice. Let the rice sit for few minutes about 3 minutes before stirring. You want the rice to brown a little. Continue cooking the rice about 7 minutes, then sprinkle with sesame seeds. Add the eggs and vegetables to the wok. Cook for few minutes. Add the soy sauce. Stir to blend all the ingredients. You can add salt accordingly.
Nutrition Information
Serving size:
1 cup
Calories:
220
Fat:
5 g
Saturated fat:
1 g
Carbohydrates:
38 g
Sugar:
4 g
Sodium:
380 mg
Fiber:
1 g
Protein:
4 g
Cholesterol:
151 mg