[caption id="attachment_1840" align="aligncenter" width="576"]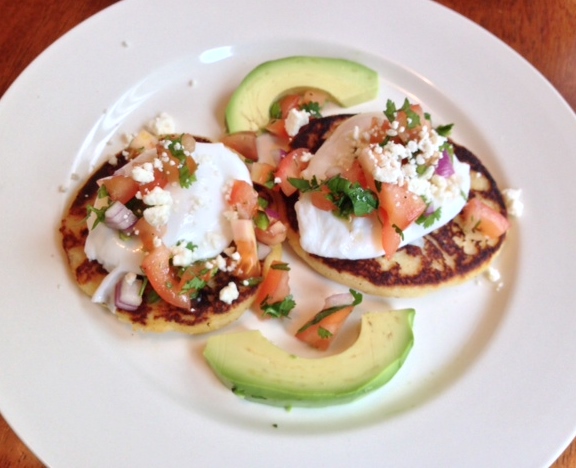 Gluten Free Corn Cakes with Poached Eggs[/caption]
Gluten Free Corn Cakes with Poached Eggs
Gluten Free Corn Cakes with Poached Eggs
Ingredients
SALSA
1 large ripe tomatoes, diced
¼ red onion, finely diced
¼ cup, cilantro, chopped
1 jalapeno pepper, seeded and minced
1 tablespoon lemon juice
salt and pepper
CORN CAKES & EGGS
2 cups whole milk
2 cupsMaseca Instant Corn Masa Flour (this is gluten free)
3 tablespoon unsalted butter, sliced
1 teaspoon kosher salt
2 teaspoon sugar
2 tablespoons olive oil
⅓ cup feta cheese, plus more for garnish
8 large eggs
1 tablespoon vinegar
1 avocado, chopped, for garnish
Instructions
Make the salsa
In a bowl combine tomatoes, jalapeno, onion, cilantro, lemon juice and season with salt and pepper.
Make the corn cakes.
Warm milk and butter in a small sauce pan over low heat just until the butter melts.
in a large bowl combine corn flour, 1 teaspoon salt, cheese and sugar.
Stir in milk mixture to make a soft dough.
Scoop dough into 8 portions (about ¼ cup)
Place on a parchment lined baking sheet.
Cover with another sheet of parchment, press the top with spatula to flatten.
Heat 1 tablespoon olive oil in a large non stick skillet over medium heat.
Fry corn cakes in batches until crisp and golden about 3½ minutes. Flip to cook the other side.
Poach the eggs.
Bring a nonstick pan with water into a simmer over medium low heat.
Add vinegar, drop eggs maybe a couple at a time and cook for 3½ minutes.
Scoop with a slotted spoon into a paper towel.
Divide corn cakes into 4 plates, top with poached eggs, salsa and feta cheese.
Add sliced avocados on the side for garnish.