[caption id="attachment_1548" align="aligncenter" width="470"]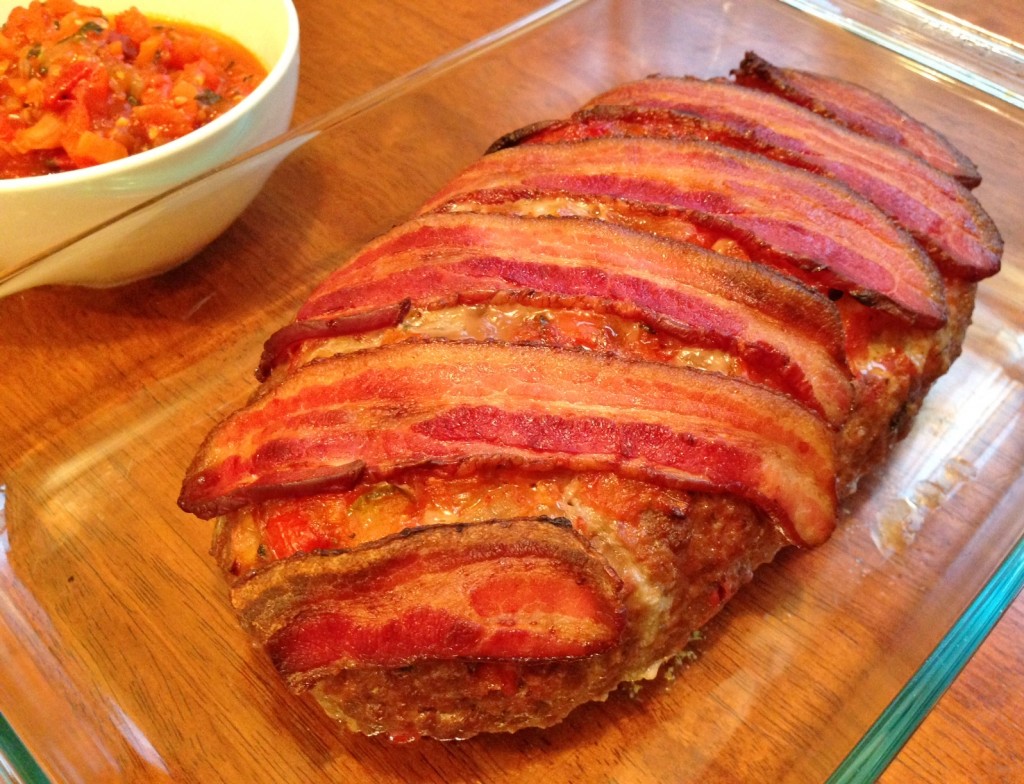 Gluten Free Meatloaf with Tomato Relish[/caption]
Gluten Free Meatloaf with Tomato Relish
Gluten Free Meatloaf with Tomato Relish
Ingredients
MEATLOAF
2 pounds ground beef
1 pound ground pork
½ cup Ener-G Bread Crumbs (This is Gluten Free)
2 eggs
1 teaspoon fresh thyme
salt and pepper
4-5 bacon slices Hempler's Smoked Bacon (this is gluten free)
TOMATO RELISH
2 tablespoon extra virgin olive oil
1 onion, finely diced
4 cloves garlic, minced
2 bay leaves
2 tomatoes, halved, seeded, and finely diced
2 red bell peppers, cored, seeded, and finely diced
¼ cup fresh chopped parsley
1 tablespoon Worcestershire Sauce (Lea & Perrins are Gluten Free)
1 (14 ounces) bottle ketchup (Heinz, Hunts brands are Gluten Free)
salt and pepper
Instructions
Preheat oven to 350 degrees f.
Coat skillet with olive oil over medium heat. Saute onion, garlic, and bay leaves for few minutes.
Add red bell peppers and cook for 3 minutes. Add tomatoes, parsley, ketchup, and Worcestershire; season with salt and pepper.
Simmer the relish for 5 minutes. Remove from heat.
In a large bowl, combine ground beef and pork with 1½ cup of the tomato relish, eggs, thyme, and bread crumbs; season with salt and pepper.
Lightly oil a rimmed baking pan.
Transfer the meat mixture to the center of the baking pan and form into a log.
Coat the top of the meatloaf with ½ cup tomato relish. Lay bacon crosswise.
Bake the meatloaf for 1½ hours until bacon is crispy and the meatloaf is firm. Rotate meatloaf few times to cook the bacon evenly.
Serve with the remaining relish.