[caption id="attachment_1465" align="aligncenter" width="470"]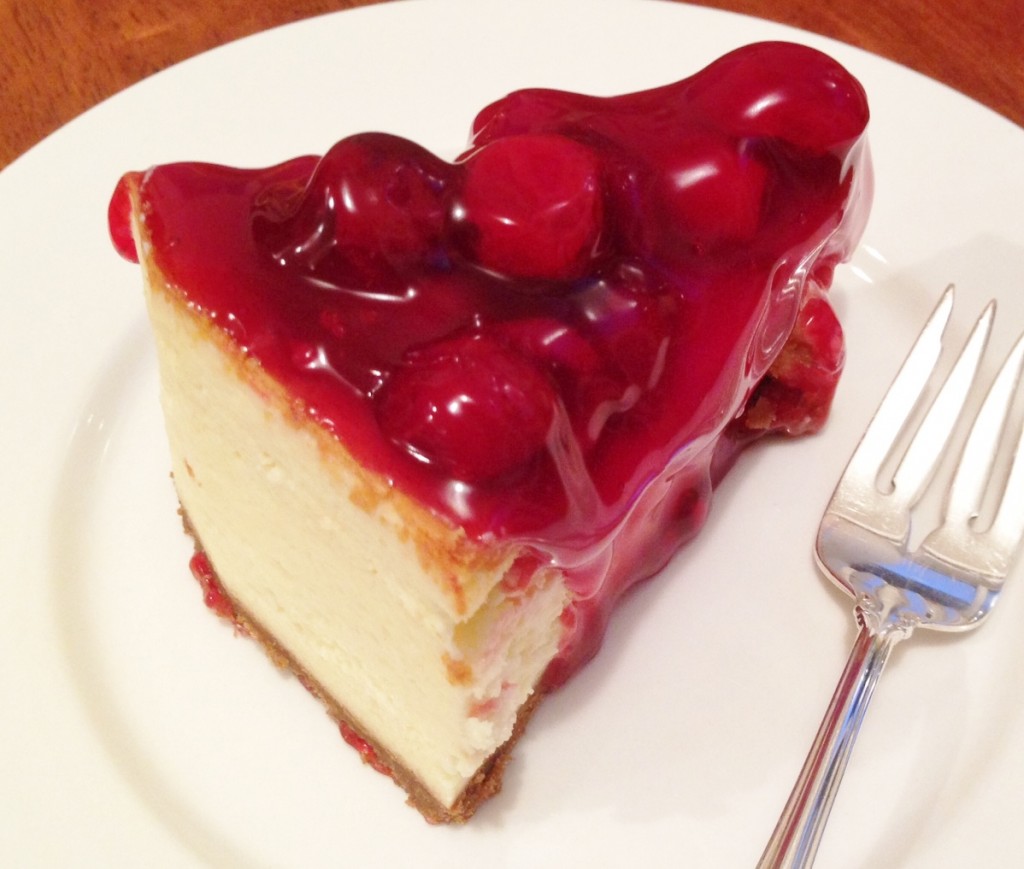 Gluten Free New York Cheesecake[/caption]
Gluten Free New York Cheesecake
Gluten Free New York Cheesecake
Ingredients
1 (8 ounces) package Gluten Free Kinnikinnick Smoreables Graham Style Crackers
4 tablespoon melted butter
¼ teaspoon McCormick Nutmeg - gluten free
4 (8 ounces) packages Original Philadelphia cream cheese - gluten free
1 cup sugar
4 eggs
1 cup Daisy sour cream - are gluten free
2 tablespoon Clabber Girl Cornstarch - gluten free
1 teaspoon McCormick Vanilla Extract - gluten free
1 (21 ounces) can Comstock Cherry Pie Filling - gluten free
1 tablespoon sugar
¼ teaspoon McCormick Vanilla - gluten free
Instructions
Preheat oven to 325 F.
Lightly grease a 9 inch springform pan.
Finely crush graham crackers in a food processor. Transfer it to a medium bowl.
Add nutmeg and mix thoroughly. Add melted butter and stir thoroughly.
Press crumb into bottom of springform pan. Don't press crumbs on the sides of the pan.
In a large mixing bowl combine cream cheese and 1 cup sugar. Beat with an electric mixer on high until smooth. Add eggs one at a time. Add cornstarch, 1 cup sour cream and 1 teaspoon vanilla. Beat on high until smooth.
Bring a medium saucepan of water to a boil.
Wrap foil around the outside bottom (halfway) of the the springform pan to make a water seal.
Pour cheesecake filling into the springform pan. Smooth top with a spatula.
Place pan on a rimmed roasting pan and pour enough water (about halfway) along side of the springform pan.
Bake for 1 hour. Turn off oven and leave cheesecake in the oven for about 45 minutes.
Refrigerate for 4 hours.
After 4 hours, in a medium bowl combine cherry pie filling, 1 tablespoon sugar and ¼ teaspoon vanilla. Mix thoroughly. Spread cherries over chilled cheesecake just before serving.