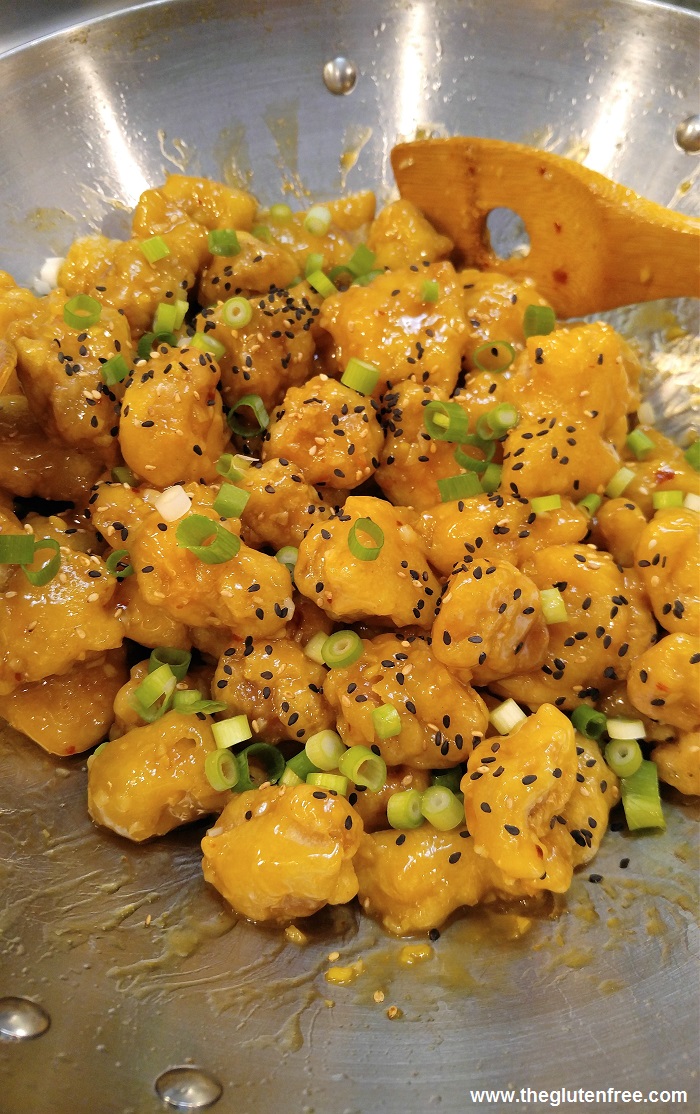 Gluten Free Orange Chicken
Gluten Free Orange Chicken
Ingredients
3 pounds skinless and boneless chicken thighs, cut into bite pieces
2 oranges, juiced
1½ cups Bob's Red Mill All Purpose Baking Flour - gluten free
1 tablespoon Clabber Girl Cornstarch - gluten free
2 tablespoons San-J Tamari soy sauce - gluten free
2 tablespoons packed brown sugar
1 teaspoon sesame oil
1 to 1½ cups water
½ teaspoon Clabber Girl baking soda - gluten free
2 tablespoons Marukan Genuine Brewed Rice Vinegar - gluten free
¼ teaspoon McCormick Red Pepper flakes
dash of salt
3 garlic cloves, minced
1 tablespoon grated fresh ginger
3 cups vegetables oil for frying
sesame seeds
green onions, sliced
Instructions
In a large bowl, combine flour, baking soda, water and salt. Stir to incorporate until thick and smooth. Add the chicken and coat.
Preheat oil in wok over medium high heat to 375 degrees F. Cook chicken in batches until golden brown about 4 minutes and place them on a plate lines with paper towels. Continue cooking the chicken.
Combine orange juice, soy sauce, brown sugar, sesame oil, red pepper flakes, and rice vinegar in a small bowl. In another small bowl, combine cornstarch and 2 tablespoons water. Stir until cornstarch is smooth.
Meanwhile, heat a small saucepan over medium heat. Add a tablespoon vegetable oil then add ginger and garlic. Saute for a minute then add the sauce mixture. Bring to a slow boil for 2 minutes then add the cornstarch mixture. Stir until thick. Place chicken in a large bowl, add the sauce. Garnish with sesame seeds and green onions. Serve!