[caption id="attachment_1796" align="aligncenter" width="620"]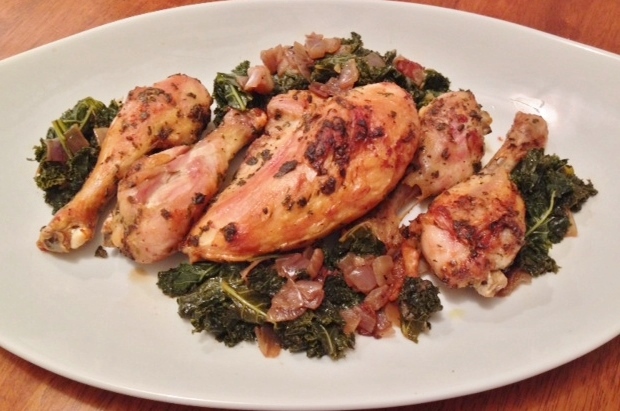 G-Free Version White House Kitchen Garden Herb-Roasted Chicken with Braised Greens[/caption]
Gluten Free Version White House Kitchen Garden Herb-Roasted Chicken with Braised Greens
Gluten Free Version White House Kitchen Garden Herb-Roasted Chicken with Braised Greens
Ingredients
3 tablespoon chopped mixed fresh herbs (such as rosemary, thyme, sage and parsley)
1 tablespoon French's Dijon mustard (this is gluten free)
2 tablespoons extra virgin olive oil
1 3 to 4 pound chicken, quartered
salt and pepper
2 slices of Hempler's bacon (this is gluten free)
1 large red onion, diced
2 bunches kale, collard or mustard greens (a mix also works well), stemmed and torn
¾ cup Swanson Chicken Stock (this is gluten free)
Instructions
Mix the herbs, mustard and olive oil in a non-reactive baking dish. Add chicken, season with salt and pepper and turn to coat evenly.
Cover and marinate in the fridge at least 1 hour or overnight.
Preheat oven to 450 degrees f.
Place chicken on a foil-lined baking sheet and roast until meat is cooked through and the skin is crisp, 30 to 40 minutes.
In a Dutch oven, sauté the bacon over medium high heat until rendered, about 5 minutes.
Add onion and cook until translucent, 6 to 7 minutes.
Add the greens, in batches, and sauté until wilted, about 4 minutes.
Add the chicken stock, cover and gently braise over low heat until tender, about 40 minutes. Season with salt and pepper and serve with chicken.
Notes
Original Recipe by:
Cristeta Comerford
White House Executive Chef