[caption id="attachment_1788" align="aligncenter" width="470"]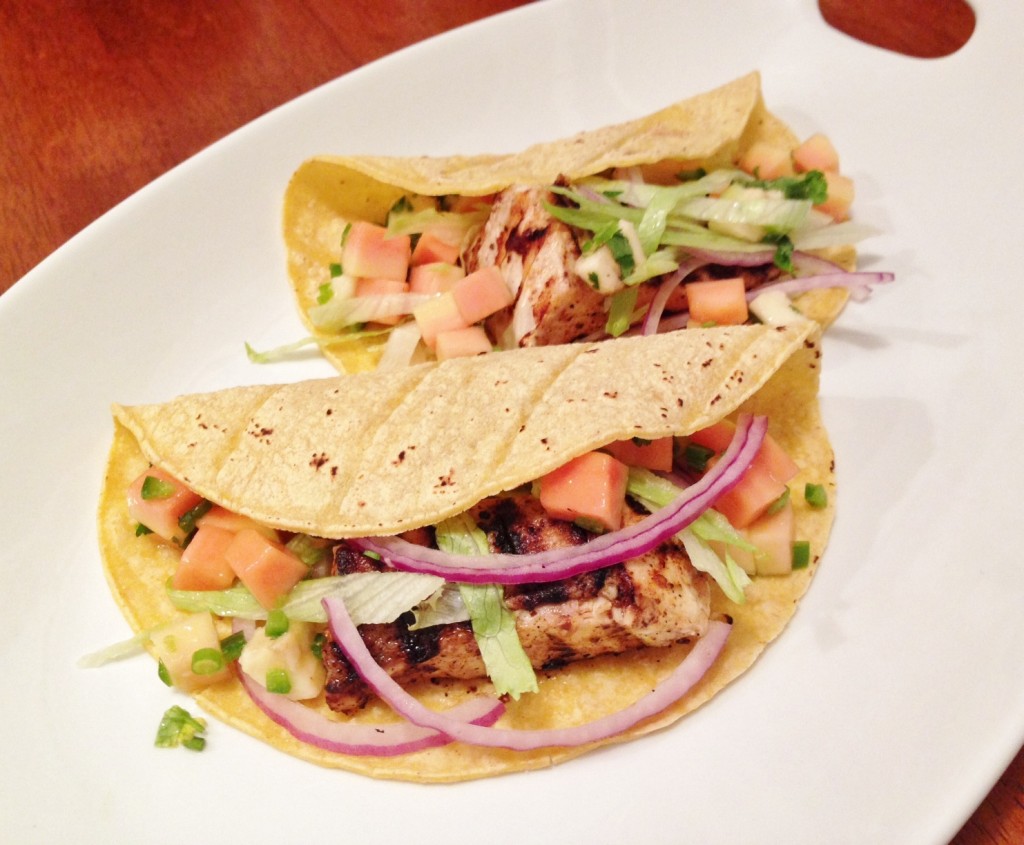 Gluten Free Fish with Fruit Salsa[/caption]
Gluten Free Fish Tacos with Fruit Salsa
Gluten Free Fish Tacos with Fruit Salsa
Ingredients
1 pound halibut or snapper fillets
6 (7 inch) La Burrita Corn Tortillas - gluten free
3 cups washed and torn romaine lettuce leaves
1 small red onion, halved, thinly sliced
2 tablespoon lemon juice
1 teaspoon McCormick chili powder - gluten free
1 teaspoon McCormick ground allspice - gluten free
1 teaspoon olive oil
1 teaspoon minced garlic
1 to 2 teaspoons grated lemon peel
½ teaspoon McCormick Gourmet Collection 100% Organic Ground Cloves gluten free
FRUIT SALSA
1 small ripe papaya, peeled, seeded, and diced
1 firm banana, diced
2 green onions, minced
3 tablespoons chopped fresh cilantro
½ of a lime, juice
1 jalapeno peppers, seeded, minced
salt and pepper to taste
Instructions
Preheat grill, or if you have a cast iron pan (my preference) oil a little bit to prevent fish from sticking.
Combine lemon juice, chili powder, allspice, olive oil, garlic, lemon peel, cloves and a little salt and pepper.
Cut fish into small pieces, about 3 inches by 4 inches or bigger.
Rub fish with spice mixture.
Grill fish, covered for 5 minutes or until fish is opaque in the center, turn occasionally.
Heat corn tortillas according to package.
Remove from heat. Remove bones if necessary.
Combine all fruit salsa ingredients in a medium bowl, season with salt and pepper.
Top each tortilla with lettuce, red onions, fish and the fruit salsa.
Enjoy!