[caption id="attachment_1648" align="aligncenter" width="470"]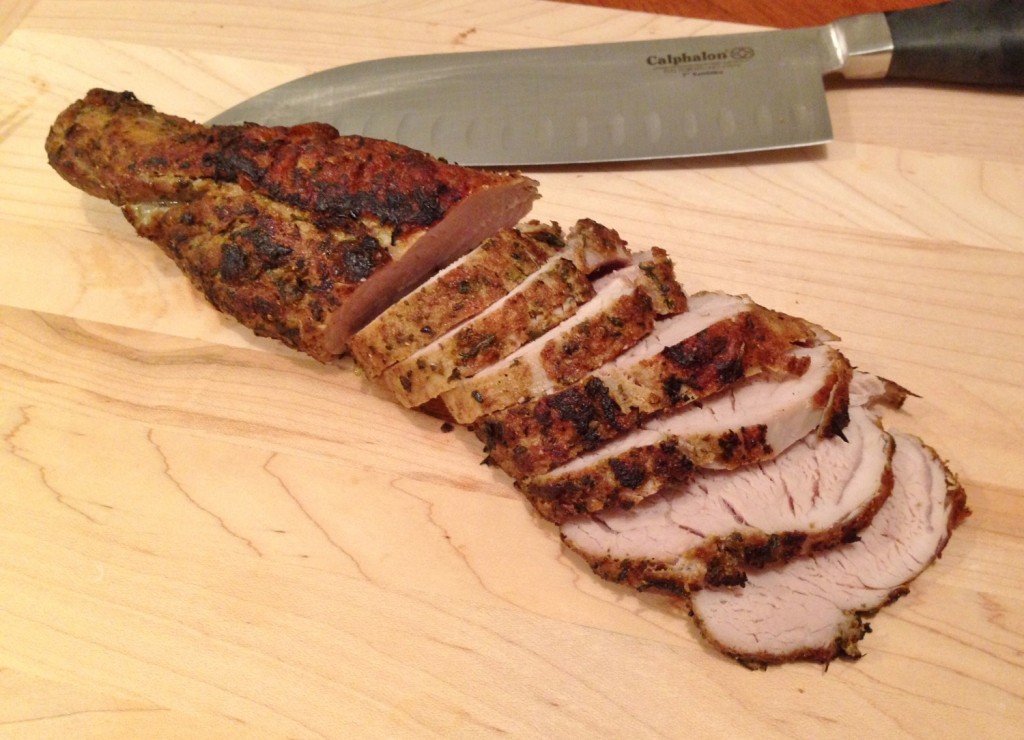 Gluten Free Pork Tenderloin[/caption]
Gluten Free Pork Tenderloin
Gluten Free Pork Tenderloin
Ingredients
1 teaspoon dried oregano
1 teaspoon ground cumin (McCormick are gluten free)
1 teaspoon garlic powder (McCormick are gluten free)
1 teaspoon ground coriander (Spice Islands are gluten free)
1 teaspoon dried thyme
about ⅛ teaspoon salt
1¼ pounds pork tenderloin
olive oil
1 teaspoon minced garlic
Instructions
Preheat oven to 450 f.
Mix dry ingredients in a bowl.
Pat dry the tenderloin with paper towels.
Sprinkle the rub over tenderloin with a dry hand, pressing gently unto the meat.
In a large oven proof skillet (cast iron) over medium high heat, add a splash of olive oil then garlic, sauté for 1 minute. It burns quickly but do not worry.
Put pork in the pan and cook for about 10 minutes, searing all sides.
Transfer meat to a roasting pan and bake for 20 minutes.
Slice and serve.
Notes
Best if marinated in the fridge overnight and cook the next morning.
Nutrition Information
Serving size:
1
Calories:
209
Fat:
9 grams
Saturated fat:
2 grams
Carbohydrates:
2 grams
Sugar:
0 grams
Sodium:
250 mg
Fiber:
1 gram
Protein:
30 grams
Cholesterol:
92 milligrams