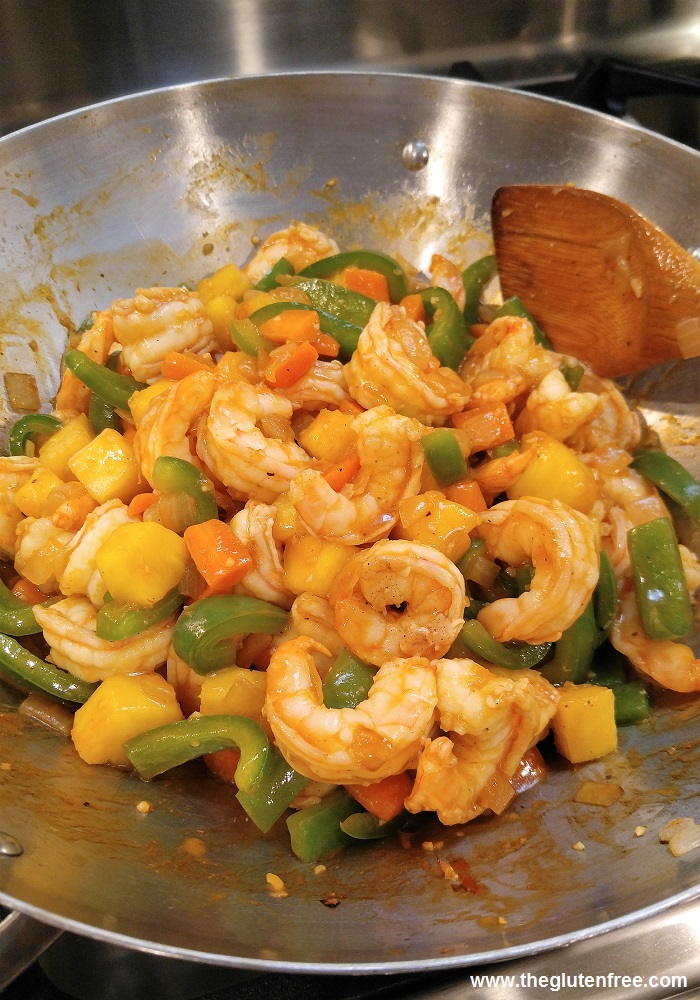 Gluten Free Sweet and Sour Shrimps
Gluten Free Sweet and Sour Shrimps
Ingredients
2 pounds wild caught jumbo shrimps, shelled and deveined
1 cup pineapple, cut into cubes
1 green bell pepper, sliced
1 cup carrots, diced
1 cup onion, diced
3 cloves garlic, minced
1 tablespoon ginger, grated
3 tablespoons sugar
4 tablespoons Marukan Rice Vinegar - gluten free
2 tablespoons Hunts Tomato Paste - gluten free
2 tablespoons San-J Tamari Soy Sauce - gluten free
1 tablespoon Clabber Girls Cornstarch - gluten free
3 tablespoons vegetable oil
salt and pepper
1 (6 oz) Dole Pineapple Juice - gluten free
roasted peanuts (optional)
Instructions
In a medium bowl, combine pineapple juice, sugar, soy sauce, cornstarch, tomato paste, rice vinegar. Stir to incorporate.
Heat wok over medium high heat and add 1 tablespoon oil. Season shrimps with salt and pepper. Cook shrimps for few minutes until done and transfer to a plate and set aside.
Add the remaining oil and saute the onions until soft about 3 minutes then add the ginger and garlic. Add the vegetables and the pineapple. Cook for for few minutes. Return the shrimps and pour the sauce mixture. Let simmer for 2 minutes. Done! Serve with rice.