[caption id="attachment_1905" align="aligncenter" width="616"]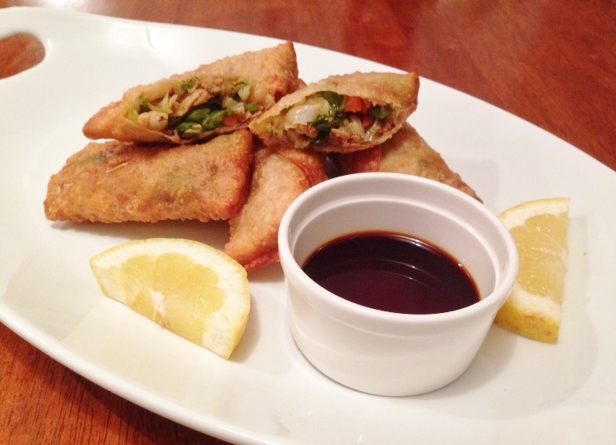 Gluten Free Egg Rolls[/caption]
Gluten Free Egg Rolls
Gluten Free Egg Rolls
Ingredients
Banh Trang Egg Roll Wrappers (this is Gluten Free)
½ pound chicken, sliced thinly
2 or 3 tablespoon Gluten Free San J Tamari Soy Sauce
2 cups mixed vegetables (snow peas, cabbage, green onions, bean sprouts, carrots) or any vegetables you like, cut into very small pieces diagonally
1 teaspoon sesame oil
1 inch ginger, sliced
cooking oil
2 garlic cloves, smashed
Instructions
Heat wok over medium high heat. Add 2 tablespoon oil.
Saute garlic and ginger until fragrant. Add chicken, cook for few minutes.
Add the vegatables, soy sauce, black pepper, and sesame oil.
Cook for few minutes.
Remove from heat. Let it cool for few minutes.
On a large cutting board, lay egg roll wrapper.
Add vegetable mixture in the middle.
Fold the wrapper to the side and roll infront to close.
Dip your finger tips into water and apply onto wrapper to seal the content.
Deep fry until golden.
Serve with soy sauce and lemon wedges.