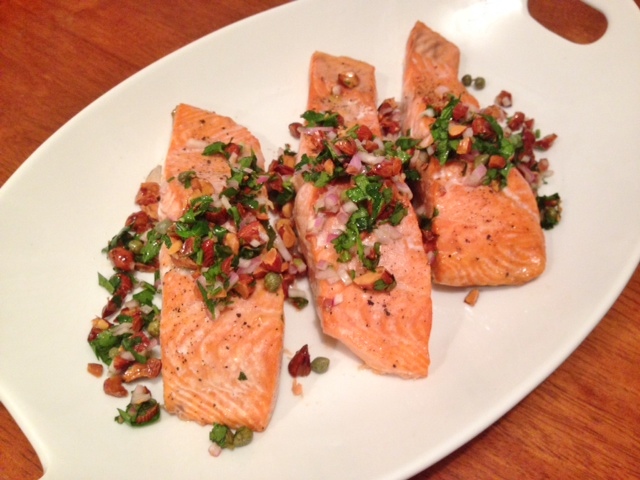 Gluten Free Oven-Baked King Salmon
Gluten Free Oven-Baked King Salmon
Ingredients
2 pounds king salmon with skin, cut into 4 pieces
kosher salt
ground black pepper
1 shallot, minced
1 tablespoon Heinz red wine vinegar - gluten free
2 tablespoons capers
½ cup fresh parsley, chopped
½ cup toasted almonds, chopped
olive oil
Instructions
Preheat oven to 450 degrees F.
Season salmon with salt and pepper. Place the fish skin down on a lightly greased baking sheet. Bake for about 12 to 15 minutes.
In a small bowl, combine shallot, vinegar and season it with a pinch of salt. Let it marinate for 15 minutes. Add the almonds, capers, parsley and drizzle with olive oil. Season with salt and pepper.
Arrange the salmon on a plate and top with the almond mixture.
Nutrition Information
Serving size:
4
Calories:
180
Fat:
11 grams
Saturated fat:
2.5 grams
Carbohydrates:
0 grams
Sodium:
170 milligrams
Fiber:
0 grams
Protein:
17 grams
Cholesterol:
47 milligrams